Although the Netherlands is a country 'flatter than a pancake', we do ski and snowboard. Truth be told, given our limited options we may not be regarded as expert level participants, and it may be a surprise that the risk of injury is high. One effective preventive measure against (severe) injuries during skiing and snowboarding is the use of an helmet. Nonetheless, helmet use in Dutch recreational skiers and snowboarders remains low. This study evaluated the effects of exposure to a nationwide intervention on relevant determinants of helmet use and helmet use in skiers and snowboarders.
What is known on this topic
Head injuries are common in skiing and snowboarding with possible serious consequences, including long-term and serious disabilities and death.
Helmet use is recommended for all recreational skiers and snowboarders to reduce the incidence and severity of head injury.
Effective implementation strategies should focus on behavioural change as a key factor for success.
Methods
The intervention mapping protocol was used to develop an in-season intervention programme targeted at adult skiers and snowboarders. A prospective single-cohort study was conducted in a sample of 363 skiers and snowboarders, to evaluate the impact of intervention exposure on determinants of helmet use (ie, knowledge about head injury risk and preventive measures, risk perception, attitudes to head injury risk and helmet use and intention to helmet use) and self-reported helmet use. Data were collected using online questionnaires before and immediately after the 2010/2011 intervention season. In a separate sample of 363 skiers and snowboarders, intervention reach was assessed after the 2010/2011 season.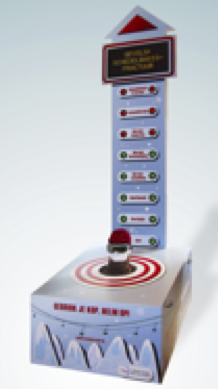 The intervention included a special version of a high striker or 'strongman game' machine that was implemented in four Dutch indoor ski halls. Ski hall visitors could strike the strongman game, or witness someone else strike it: the harder the strike, the higher the puck would rise, with indications ranging from head- ache to skull fracture as possible consequences of a blow to the head.
Results
Overall, no signi cant associations were found between intervention exposure and the determinants of helmet use. However, subgroup analyses revealed intervention effects on risk perception and knowledge in specific subpopulations. Intervention exposure had a significant, positive effect on helmet use (β=0.23; 95% CI 0.017 to 0.44). Subgroup analyses revealed that this effect was found in: (1) skiers, (2) females, (3) young skiers and (4) intermediate level skiers. Overall, intervention reach was 28.1%, with differences found between skiers and snowboarders.
Conclusions
Self-reported helmet use differs significantly between subgroups of winter sport participants.
A nationwide intervention using multiple components and strategies, both at an individual and national level (health communication elements), can be successful to increase self-reported helmet use.
Differences in intervention reach and effect between subgroups of a target population should be considered when developing and evaluating interventions.
Vriend II, Hesselink A, Kemler E, et al. Effectiveness of a nationwide intervention to increase helmet use in Dutch skiers and snowboarders: an observational cohort study. Inj Prev 2017;:injuryprev–2016–042179. doi:10.1136/injuryprev-2016-042179